Trucking news and briefs for Tuesday, April 18, 2023: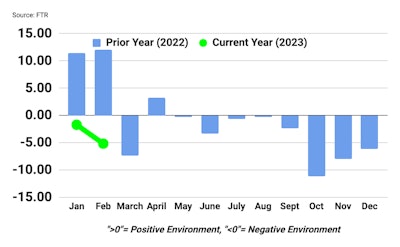 FTR's Trucking Conditions Index in February declined to -5.17 from January's -1.71 reading, reflecting weaker freight rates and volume.
Those headwinds for trucking companies more than offset slight improvements in utilization and fuel costs, the firm noted. Financing costs remain a negative factor for carriers, but they are largely stable. The TCI is forecast to remain in negative territory until well into 2024.
"While market conditions for trucking companies weakened in February, the relatively better – though still negative – TCI in January was the outlier," said Avery Vise, FTR's vice president of trucking. "The industrial and consumer sectors are sluggish, although spending on goods is still elevated and consumer inflation is slowing."
Regarding freight volume, Vise said it's "holding up better than many anticipated, but downside risks are substantial."
Vise added that the economy could slow even more due to tighter lending standards by banks and interest rate hikes from the Federal Reserve, though fears of a major banking crisis have abated since March.
Autonomous truck developer TuSimple announced April 11 the results of a safety audit performed by TÜV SÜD, a world-leading certification body for safety and security in the autonomous vehicle industry.