Blink and you'll miss it. If you squint pretty hard, you might still miss it.
At the end of this calendar year Peterbilt will sunset its heralded Model 389 in favor of a new model that looks... frankly, almost exactly like it. Even stewards of Peterbilt history might walk the truck stop parking lot and mistake the new Model 589 for a 389.
[Watch: Test drive and walk around of Peterbilt's new Model 589]
I'm a big ol' nerd. One of my favorite movies is The Karate Kid, and there's a quote from the movie that I think is fitting when comparing the outgoing 389 with its replacement. Mr. Miyagi sees a photo of Daniel with his crush, Ali, and remarks that the pair make a cute couple and look "different, but same."
"No. Different but different," a dejected Daniel retorts.
I think that's a fair summation of the Peterbilt Model 589: a truck that is as much unvarnished tradition as it is cutting-edge homage to the unit it replaces. The 589 joins a regal trucking lineage: the 351, 379, 389 and the 359, the latter of which is still widely seen as the King of the Truckstop, and this lineup has remained one of the last vestiges trucking's glory days – big, boxy, flashy, long-nose conventionals.
The decision to phase out an icon isn't an easy one, and it's made even more complicated, said Peterbilt Director of Product Marketing Jacob White, by the emotional connection that so many share with the long-hood tractor.
"Emotional to us. Emotional to our customers, and meaningful to the history of trucking in America," he said, noting that with the introduction of the 589 Peterbilt was "passing the mantle of class from one generation of that product to the next. To a lot of our customers, this truck is their brand."
The makeover was neither easy, nor was it quick. Peterbilt started working on the 589 project on April 26, 2013 – 523 weeks ago.
"It's just because of how sensitive this truck is, and we wanted to proceed with caution," White said, "and there's also a lot of [emissions] uncertainty in that timeframe." There was a worldwide pandemic in there, too.
Instant classic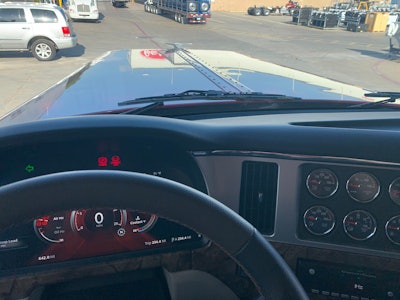 Careful attention was paid to keep the timeless look of the exterior because, White said, "it's about the look and the way you feel when you see that big square hood out in front of you."
Indeed it is something unique to look through the massive windshield and see that flat hood and iconic bird.
The most obvious change to the truck is its name, and there's a good reason for it. The 300 series represents trucks equipped with Peterbilt's older 1.9 meter cab. The 500 series identifies trucks equipped with the 2.1 meter cab – the newest cab in the industry. So the most significant change to the truck itself is likely one you won't notice until you get inside: it's larger and more roomy. Using the 2.1 meter cab in the 589 simplifies matters for Peterbilt and aligns its on-highway models on the same cab platform. It also gives the driver and passenger noticeably more knee and elbow room. Those extra 8 inches make the cab feel considerably larger and create a more comfortable driver environment.
Over the course of the 589's development White said designers considered all options, and even looked at sketch concepts that didn't include the iconic external air cleaners because the 2.1 meter cab wasn't designed for them. Customer feedback, however, was near-unanimous: those 15-inch chrome cans were a requirement, and engineers would just have to figure out how to attach them and re-route the air system because under no circumstances could the breathers be just for show, he said.
Outside you'll find plenty of other throwback Peterbilt classics: pod headlights; the aluminum crown and stainless grille; all the bumper options from the 389 are carried over but now including LED running lights; the hood is still lightweight aluminum; bicycle-style fenders; heated and motorized West Coast-style mirrors, "like God intended on this truck," White joked, with a flat glass that is 2 inches taller for better visibility; and dual, chrome, functional 7-inch exhaust stacks. Peterbilt did include some new components for the roof, like a V-style visor rather than a rounded one, and bullet-style marker lights across the top that are twice as bright as the legacy ones.
Safety is increasingly paramount, even if you do favor a style of truck that looks like it rolled out of a history book. As such, the 589 will also make available Bendix Wingman Fusion – a first for this series of truck.
If you're really in to aesthetic detail – and let's face it, if you're a fan of throwback tractors you're a stickler for design aesthetics – the battery box and aftertreatment box match.
The Model 389 makes up about 20% of the Peterbilt order book annually, and that is a figure that surprised me. It's just not a truck I see all that often, but on my 100-plus mile drive through North Texas I snapped a handful of photos down the tractor's long nose and there was another 389 in the background of almost every one of them. We caught plenty of looks from fellow truckers, too, so either they realized something was a little different about my rig, or they were just admiring my black, red and chrome ride. It's definitely a head-turner. The 589 is a fantastic-looking truck.
The truck's popularity may be sneaky, but these show-quality trucks are out there in the wild putting in work with owner-operators; as premium work trucks (wreckers, dumps and tanks); with regional small fleets; and as reward trucks for big fleets. Its versatility gives the model one of the strongest residual values on the highway.
'Cool is still cool'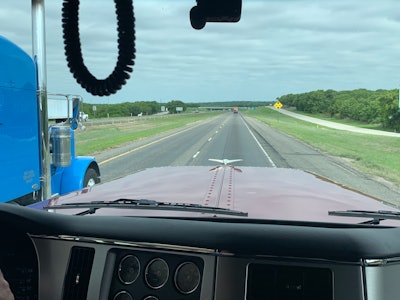 The 589 will make standard Paccar's MX-13 engine and TX-12 automated manual transmission (same as the 389), strapped to a Paccar DX40 rear tandem. A Paccar TX-18 automated manual is also available, as are Eaton's Endurant HD and XD models and Allison options for vocational users. My test truck was spec'd with the TX-18. Maybe I lose some of my street cred for loving the AMT in this truck, but I do love it. I'm sorry. I want to look like an old cowboy, not work like one and feel like one when my drive clock runs out.
White said the Paccar powertrain is standard for a couple reasons:
It's lighter-weight than any other option, and
It satisfies comfort and ease of use requirements sought by younger drivers.
I found the power from the MX-13 to be more than sufficient for my 65,000-pound gross. The stalk-mounted controls are just easier (I like things that simplify my life), and the sure-footed, smooth acceleration through the short-step gears in the TX-18 make this configuration easy to love.
"As the demographic changes, cool is still cool but some of the modern powertrains just perform so much better," White added.
[Related: Paths to 10-plus mpg in a Class 8 tractor with aero, downspeeding, more]
I do love driving a manual, it's just not something I would want to do every day. Old-school loyalists are undoubtedly eyeing that big red engine and manual gearbox and, of course, you can get a 15-liter Cummins and a manual transmission if you want it. If a truck was ever born for a manual it's the 589, and manuals are the top gearbox of choice for the current Model 389 by a wide margin. For the 589, the manual features a hydraulic clutch with air assist for less fatigue and less maintenance. So even if you want to put in the extra work and shift the old-fashioned way, it's a little less "extra" thanks to its lighter feel and pedal travel.
Granted, the 589 isn't an exercise in aerodynamic flow, but that's not to say it's inefficient. If you spec this truck in a vocational setting, aerodynamics barely matter at all. If you're OTR, I wouldn't plan on joining the 10 mpg club, but you never know. Your results here will vary. My truck barely had 600 miles on it when I hopped inside and my average was just more than 6 mpg for the trip. It shouldn't be hard to top that once everything wears in, especially for fuel conscious drivers.
Inside you'll note hints of Peterbilt's flagship 579 fleet tractor, but the 589 interior is definitely unique to this truck. It is available in sandstone (tan) and alpine grey and in Platinum and Premier trim levels. There's no shortage of woodgrain and brightwork in the dash, which also features six traditional round dial gauges. Peterbilt's practically universal 15-inch digital display serves as the primary instrument cluster. The two-tone steering wheel includes ergonomic integrated finger-tip controls and overall the inside is plush and quiet at speed.
Behind the captain's seat is a walkthrough discrete sleeper with ample storage, a full-size wardrobe, fridge, provisions for a 22" flat screen TV, the largest mattress in the industry at 80" long, a big appliance shelf, various ports and inverters and a work station. The 589 is available in 36" low roof, 58" low roof and high roof, 72" low roof and high roof, 80" high roof and daycab. The low roof 72-inch sleeper is not something that was previously available on the 389, but could be a big deal for show truck customers.
I got some bunk time on this trip, and it's comfortable. I didn't have to live and eat in it, but I got about an hour back there. If you're needing a mobile home away from home there are far worse places to spend your nights, breaks and resets, and the wider cab makes it easier to climb back there.
The 589 also maintains the length of its predecessor. The 131" BBC long hood is the same as the 389 but a 121" BBC short hood option is available for daycabs, two inches shorter than a 389 daycab for better maneuverability. The long wheelbase of the truck makes for a very steady ride.
With new and tougher emissions regulations having been implemented or on the verge of it – and the last several new truck debuts across all OEMs being electric – I think I forgot that truck manufacturers are allowed to roll out new diesel-powered units, especially ones this cool. The 589 does an excellent job in simultaneously honoring trucking's history and Peterbilt's heritage while embracing efficiencies afforded by modern technology, thereby accomplishing one of Mr. Miyagi's cornerstones: balance.