Peterbilt is retiring its Model 389, a truck that has carried the torch for the glory days of trucking for 17 years. The Model 389 replaced 379 in 2006 with redesigned headlamps fenders and trim, and the 379 itself replaced the venerable 359 in the late 1980s.
The Model 589 at the beginning of next year will pick up the mantle for a series of truck that has carved out a niche as a premium throwback popular with owner-operators; eye-catching work trucks; with regional small fleets; and as reward trucks for big fleets. Peterbilt has produced 110,000 Model 389s since its 2007 model year debut.
[Related: Test drive of the Peterbilt Model 589]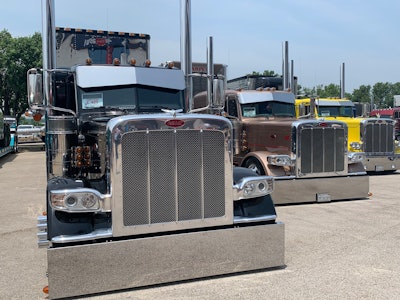 Peterbilt Tuesday night sent its Model 389 off in style, officially introducing the Model 589 at a customer, dealer and media event that, fittingly, included a Pride & Class truck show with 200-plus entrants at Texas Motor Speedway.
The 589 gets Peterbilt's newer 2.1 meter cab, a roughly 8-inch bump in leg and elbow room from the 1.9 meter cab of the outgoing Model 389, but it maintains practically every other element important to the old school series: the large 15-inch external air cleaner cans; pod headlights; the aluminum crown and stainless rectangular mesh grille; lightweight huck-bolted aluminum hood; bicycle-style fenders; and dual, chrome, functional 7-inch exhaust stacks.
Designers – who started working on the 589 project in early 2013 – did sneak in a few updates, but they are subtle and unlikely to ruffle the feathers of classic Pete purists.